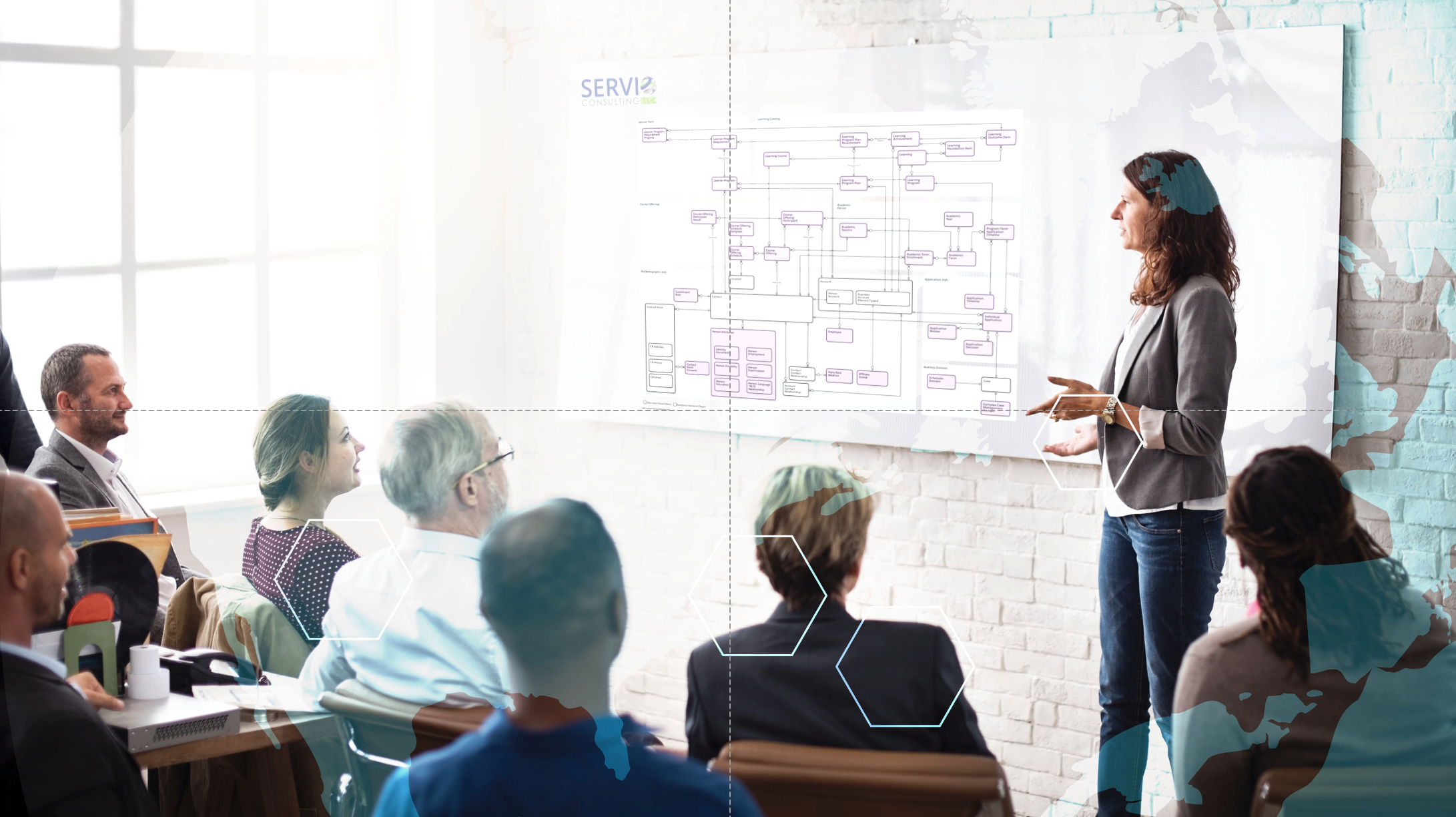 "Leveraging Salesforce has facilitated our increase in retention rates, graduation rates, enrollment rates, conversion rates, [and] service. It's not the only thing, but it definitely has impacted all the success rates that we measure here."

‑ Senior product manager IT, public university
Education is transforming at an accelerated pace. And while the pandemic highlighted the significant value of technology in all facets of the education experience, it also introduced unprecedented challenges relative to competition for students, heightened user demand and expectations, and the need for sharing mission-critical information between administrative staff and faculty.
The good news amid this whirlwind of change that shows no signs of abating is the introduction of the Salesforce Education Cloud. And better still, you can rely on strategic partners like Servio Consulting, experts in integrating and implementing Salesforce Education Cloud for education institutions across the entire spectrum — K-12, junior college, technical or career training schools, and colleges and universities, and remote learning — in solving these sometimes-overwhelming dilemmas.
Built upon the Entity Relationship architecture — functionality based on how various entities within a system, such as people, objects, or concepts, relate and interact with one another — the Education Cloud is not just the evolution of solution-based point or managed package applications. It is a revolutionary operating platform that elevates your organization's capabilities while significantly enhancing your ability to engage users — students, parents, teachers, staff, faculty, alumni, remote learning, and all related constituents — at every stage of the relationship building continuum.
As a result, you can now serve-up vastly improved user experiences by creating constituent journeys and more personalized communications. Moreover, you provide the institution with one source of truth for all data — structured and unstructured — while streamlining operations by automating once time-consuming manual processes or repetitive and duplicative data entry requirements. More importantly, the Education Cloud cost benefit calculus reduces and simplifies overall technology spend and delivers quantifiable financial benefits. Especially when it is designed, integrated, and managed based on your organization's specific needs, and operating principles by a partner with deep experience in the CRM for education ecosystem.
Elevating Engagement
Developed in collaboration with educators and built upon the Education Cloud platform, Servio Consulting 360º system architectures equip your organization with visibility into the entire relationship development continuum — from recruitment of potential students through smooth onboarding to advancement and eventual graduation, to alumni and donor relations.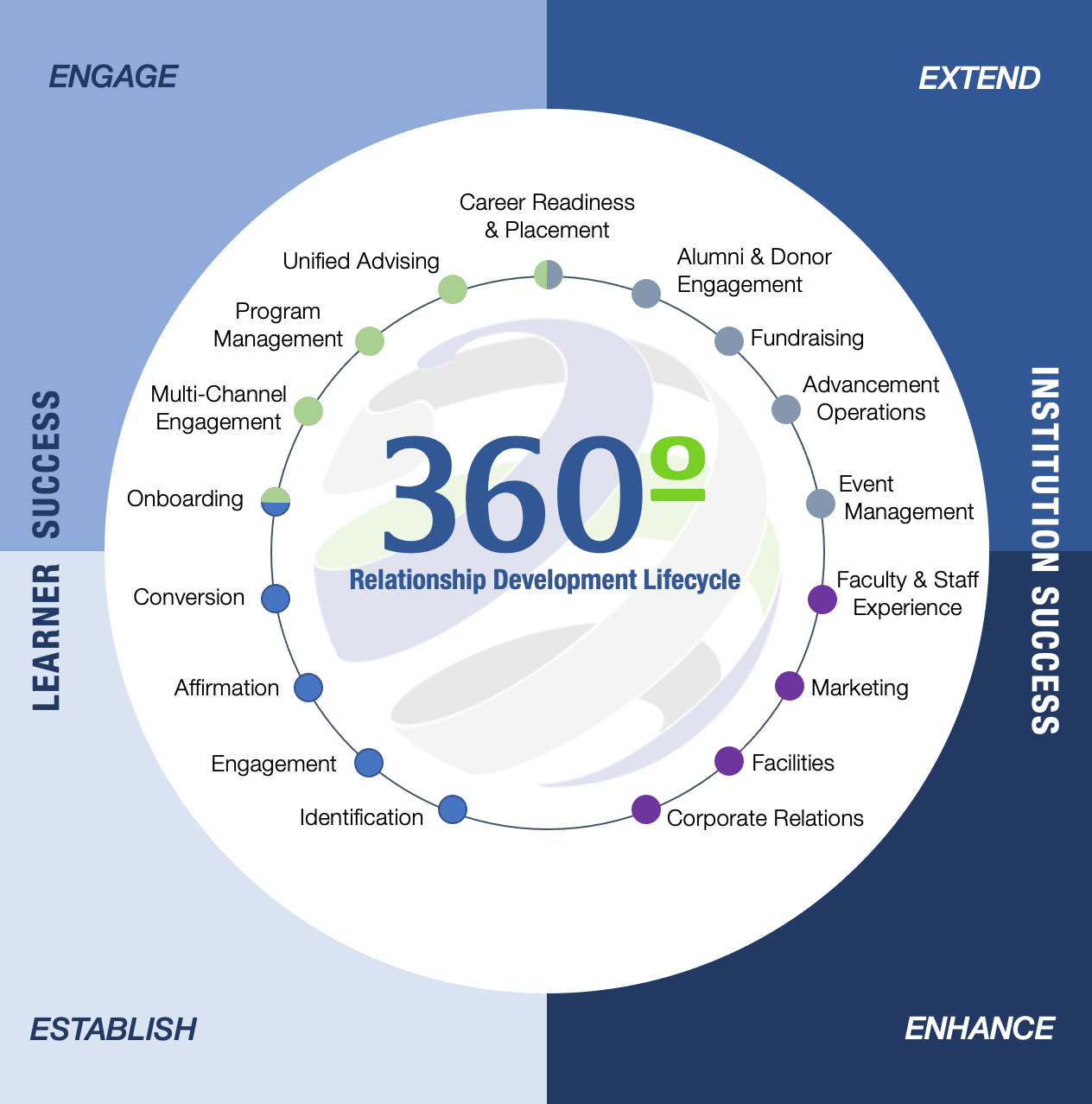 A recent study completed by Forrester® Consulting found institutions using Education Cloud increased post-pandemic return enrollment by 5.5%.1 That same study reported a 15% increase in student retention rates and 10% lift in donations from alumni and other financial supporters.1 Evidence of the lifecycle impact Education Cloud and Servio 360º can have on relationship building.
These results also demonstrate how establishing a learner-centric, data-driven culture makes pinpointing a precise target audience with the right message at the right time possible. In addition, it shows that proactively identifying and addressing potential student barriers to enrollment and advancement will have a positive impact on achieving organization goals and objectives, and boost conversion rates by streamlining the application and admissions process. But the benefits don't end there, Education Cloud enhances learner onboarding and assimilation as well. Never before have educational institutions been able to cultivate and nurture relationships with this degree of high-touch, proactive, interactions.
Future Proofing Your Organization
Prior to the introduction of the Salesforce Education Cloud many institutions were forced to use a variety of point or managed package solutions across functional areas and distinct cost centers. Doing so resulted in overly complex workflows and inconsistent and confusing user experiences. Worse yet, locating, extracting, and sharing mission-critical data across the organization in a timely manner was extremely difficult if not impossible.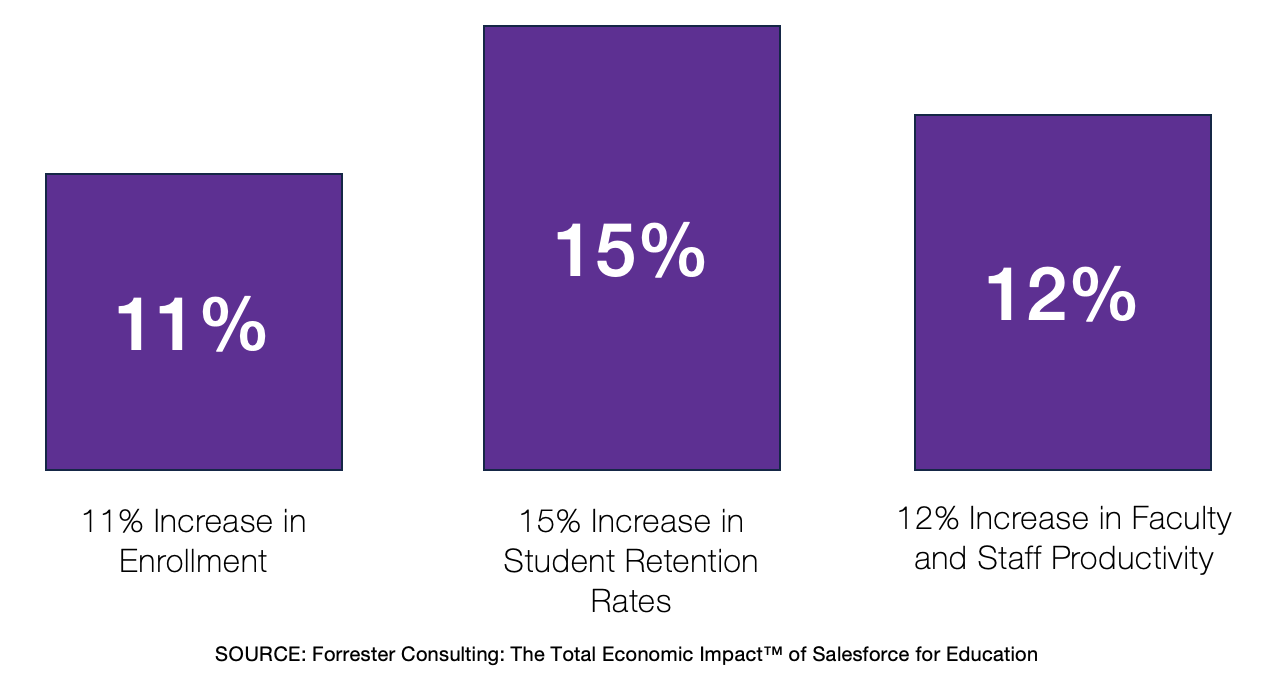 That was then. Now you can enjoy productivity increases of 12% or better by aligning your digital capabilities with existing organization-wide strategies via the Salesforce Education Cloud. At the same time a unified vision emerges across your institution as cross-functional workflows, data analysis, and communications are seamlessly integrated utilizing the world's leading CRM platform delivered by industry experts from Servio Consulting — a highly collaborative team of technical architects, business analysts, project managers, and consultants that focus on one thing and one thing only — putting the flexibility, scalability, and power of Education Cloud to work for you.
Optimizing present opportunities and planning for the future has never been more urgent. Keeping your organization at the peak levels of operating capacity while ensuring your system will be relevant tomorrow is essential.
Realized Value
The Forrester® Total Economic Impact study previously cited above was conducted in the spring of 2023. In doing so Forrester created a single composite institution from a sample set comprised of experienced users of the Salesforce Education Cloud. The resulting composite model is a public, four-year university with 7,000 faculty and staff members, 40,000 students, and annual operating revenues of $1 billion per year.
The research framework made identifying the cost, improvement, flexibility, and risk factors associated with investing in the Education Cloud platform possible. Hence, the percentages and statistics related to Education Cloud implementation are real and quantifiable monetized benefits.
By investing in the Salesforce Education Cloud institutions were capable of automating manual processes which streamlined recruiting and enrollment tasks. Likewise, faculty and administrative staff were now capable of accessing and sharing data-driven insights such as conversion rates and student journey maps on demand. In addition, the capacity for users to opt for self-service functionality when and where appropriate was greatly enhanced. This made proactive, more timely dissemination of information and responses to inquiries, possible. Retention rates increased as a direct result.
The composite institution began the Salesforce Education Cloud platform deployment with student recruitment and experience use cases, later adding the fundraising use case. Following the implementations three-year, risk-adjusted present value metrics were established from the actual performance of the composite institution. The study revealed that three-year, risk-adjusted present value costs were roughly $6.1 million USD while benefits amounted to $10 million — a 153% return-on-investment. The equation included an estimated 14-month payback period.
The graph below illustrates the monetary value of the improved performance metrics.
______________________________________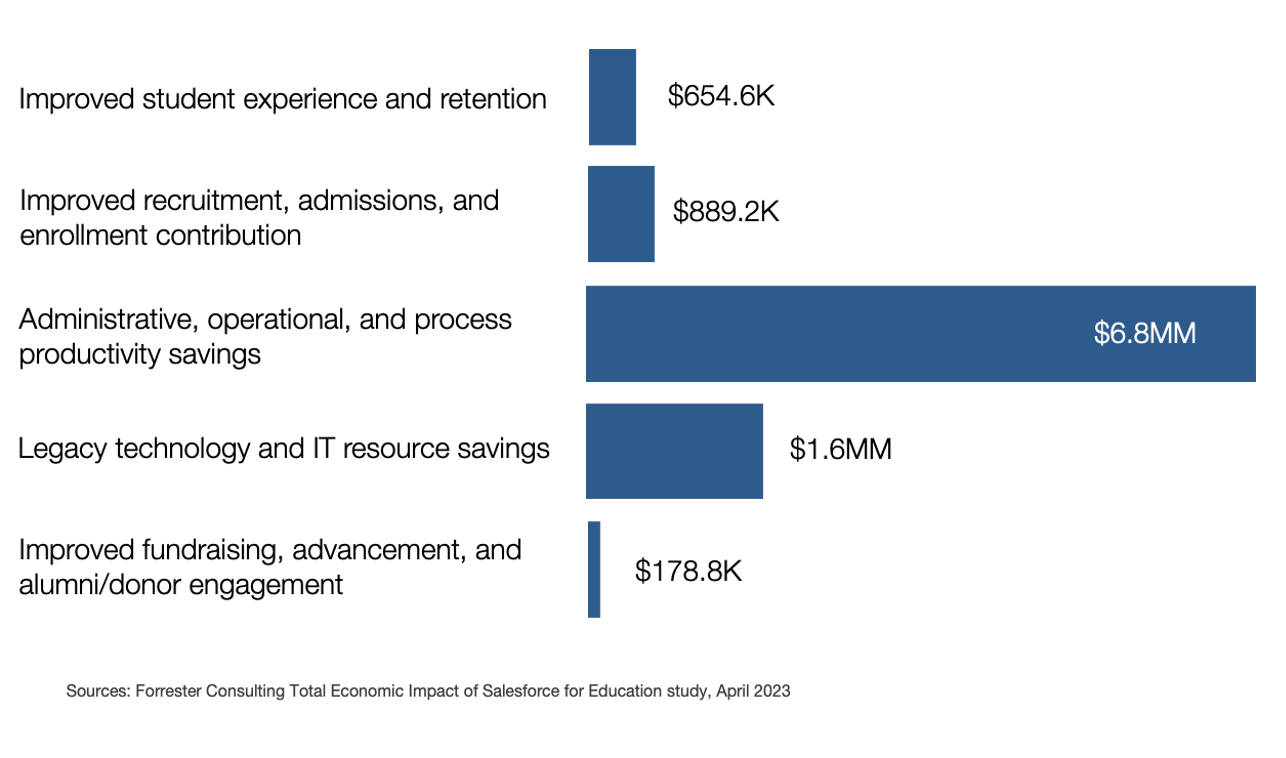 ______________________________________
The Forrester results are validated by recent research published by Fortune Business Insights that project CRM ROI figure could climb as high as a $30 return for every dollar invested by 2028.2 The firm's previous 2014 study on the benefits of CRM solutions revealed that for every dollar a company invested in a CRM system, they could expect a return on investment (ROI) of around $8 USD. Indicating the value of CRM based technology, like the Salesforce Education Cloud, is escalating at an increasing rate.
______________________________________
"Like many small, private institutions, we had aspirations to be something more. The legacy SIS (student information system) and CRM just weren't working."
‑ President and chief executive officer, private college
______________________________________
The Time for Digital Transformation is Now
Education Institutions, large and small, must proactively address the dynamic changes wrought by the consumerization of technology. Which means prospective and current students, parents, alumni, faculty and staff, board members, trustees, and strategic partners expect your technologies to work as fast, intuitive, and efficiently as their favorite online retailer. Education Cloud is designed with the flexibility, extensibility, and speed demanded by these evolving consumer behaviors.
Accomplishing digital transformation requires adoption of a comprehensive, end-to-end operating model in line with these modern ways of communicating and getting things done. Servio consulting are experts at designing, integrating, and implementing the Education Cloud Platform with an unencumbered 360º view of the relationship development lifecycle continuum. Which serves as both incentive and assurance that now is the right time for initiating your organization's transition from rigid, antiquated legacy solutions to elevated capabilities that maximize the value of a learner-centric culture.
#          #          #
1 Forrester® Total Economic Impact™ Study Commissioned by Salesforce
2 Source: fortunebusinessinsights.com