Enabling Lifelong
Relationships in Education
— utilizing Salesforce Education Cloud —
Servio 360º and Salesforce Education Cloud
— from Solution to Capability —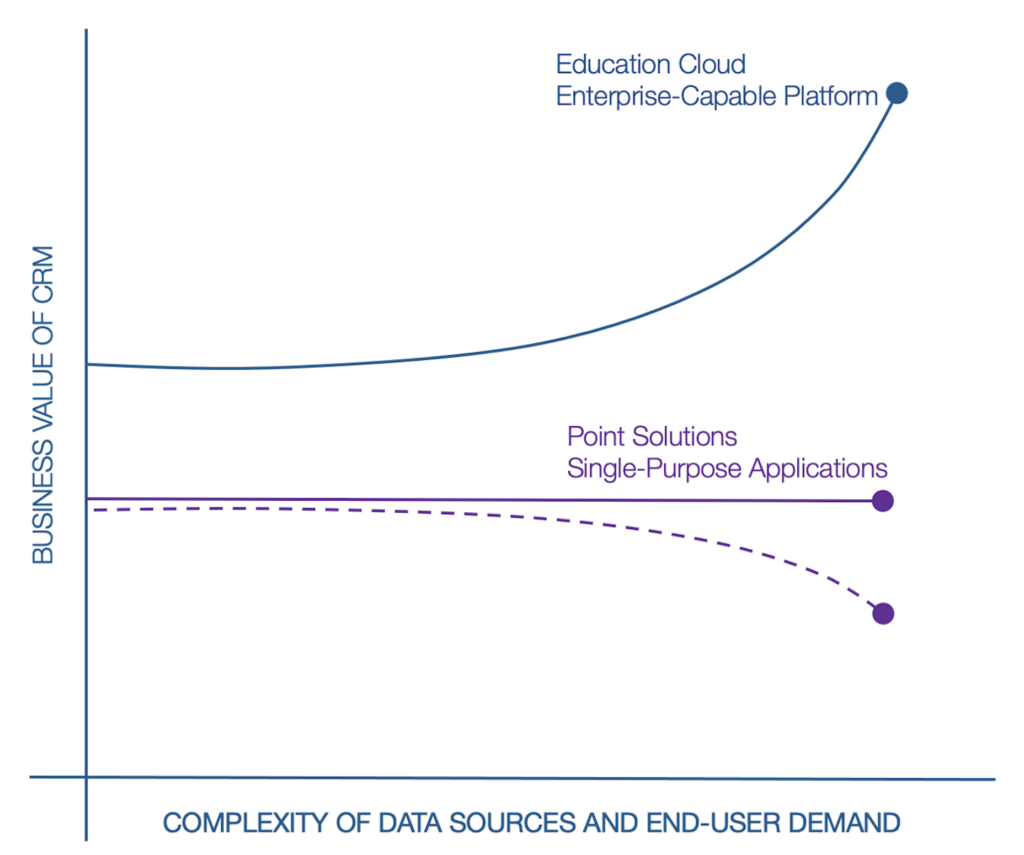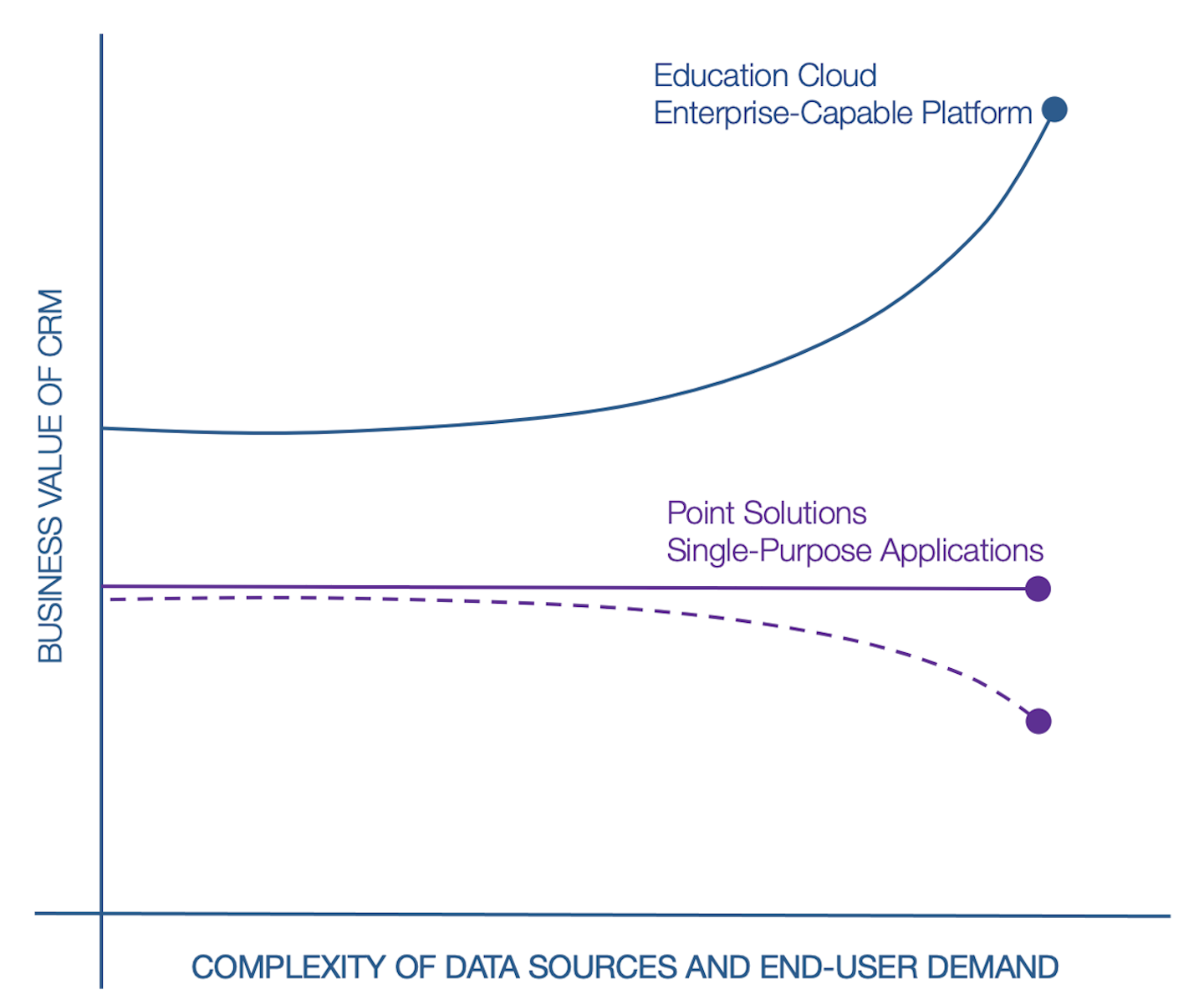 Elevate Your Capacity to Engage
Education Cloud is designed with the flexibility and speed demanded in keeping step with the consumerization of technology. Simply put, those you serve — potential and existing students, parents, alumni, faculty, staff members, donors, board members, trustees — expect your user experience to be as intuitive and effortless as making a purchase from their favorite online e-tailer. Education Cloud increases in value in direct correlation with increases in complexity and user demand.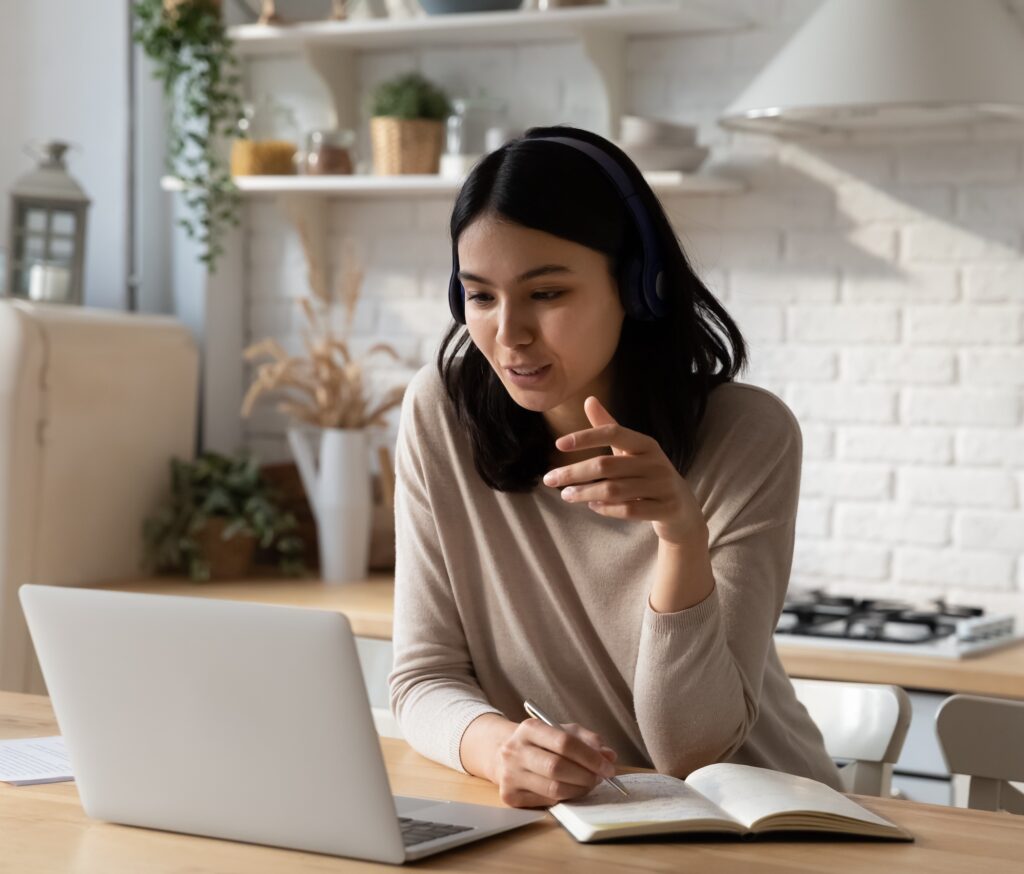 Salesforce Education Cloud provides a powerful set of task-based tools that enable a digital first approach to building lasting relationships. Now you can quickly create dynamic, branded, personalized student, faculty, staff, and partner interactions and connect them with system data and applications, all without code. Now you can design engaging customer interactions and easily update those interactions as circumstances dictate.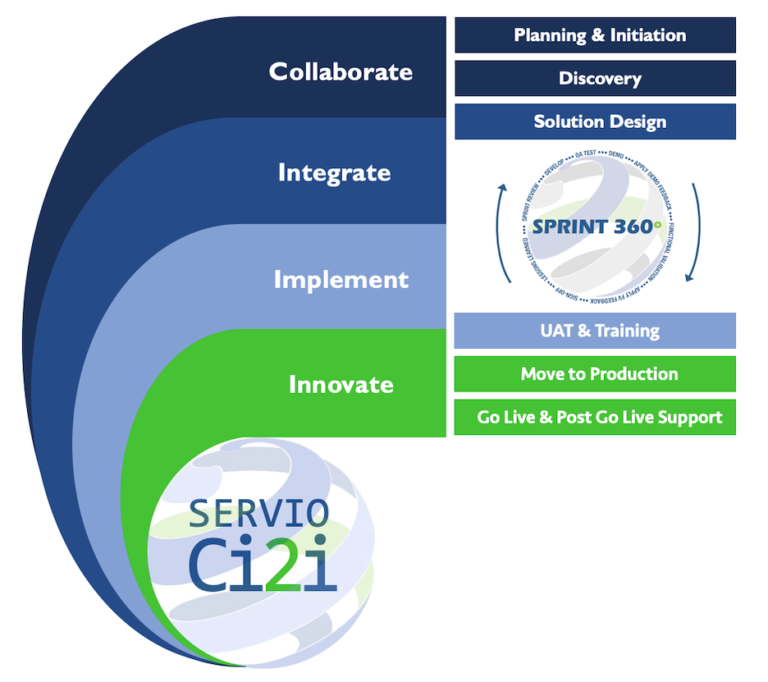 The faster your solution is up and running the quicker your team will elevate capabilities, increase collaboration, and streamline efficiencies. The Servio proprietary Ci2i implementation framework enables fast and efficient integration and implementation of Salesforce Education Cloud — accelerating time to value for schools K-12, colleges and universities, community colleges, and technical and career training schools with equal impact.
Servio 360º — Salesforce Education Cloud functionality customized for each phase of your institution's relationship lifecycle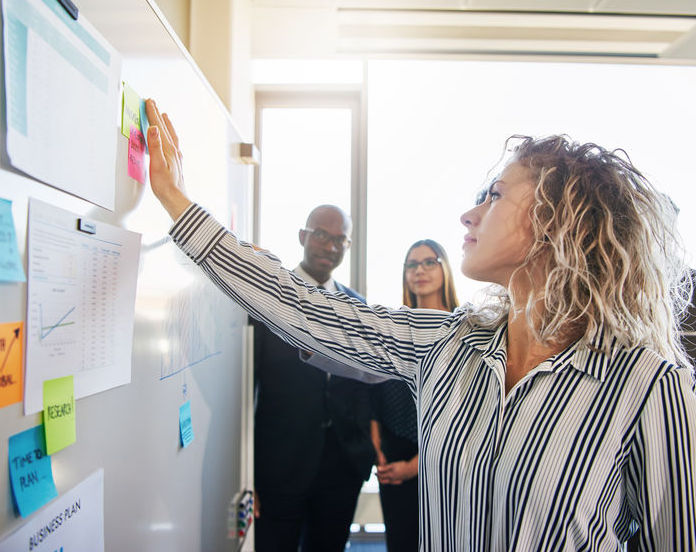 Identify and recruit prospective students with the best fit and highest potential for success at your institution. Boost conversions with streamlined application and admissions processes. Cultivate high-touch, proactive relationships. Facilitate learner onboarding and assimilation.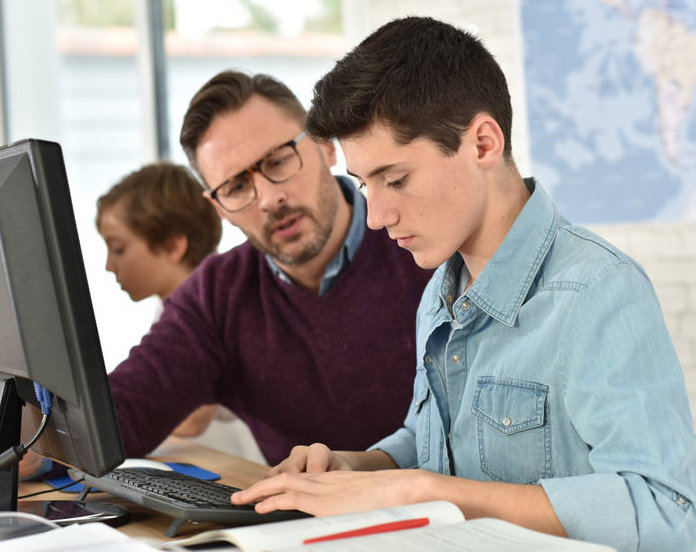 Servio Consulting enables personalized learning experiences utilizing the world's leading CRM technology from Salesforce.org. Now you can unify and draw insights from data with a complete 360º view of student involvement and progress — fostering student wellbeing while increasing retention rates and improving performance.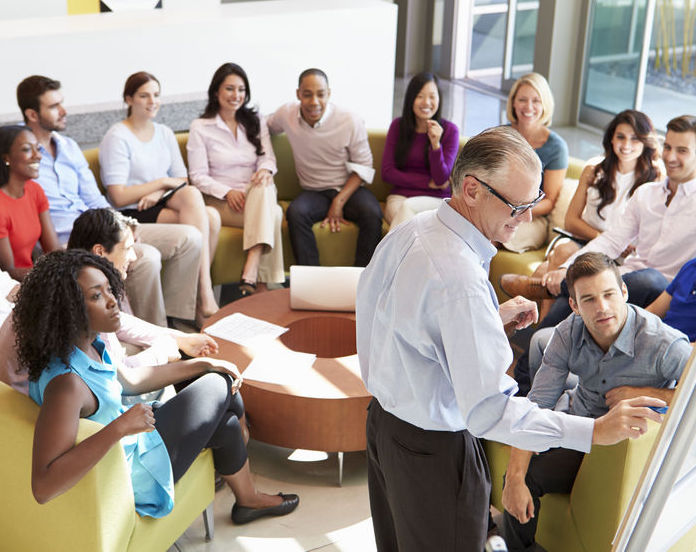 Institution advancement and alumni relations require integrated solutions with single view functionality. Servio 360º helps optimize graduation rates and fine-tune career placement. Expand and improve relationships — elevating online fundraising efforts and encouraging gift-giving through precisely targeted campaigns.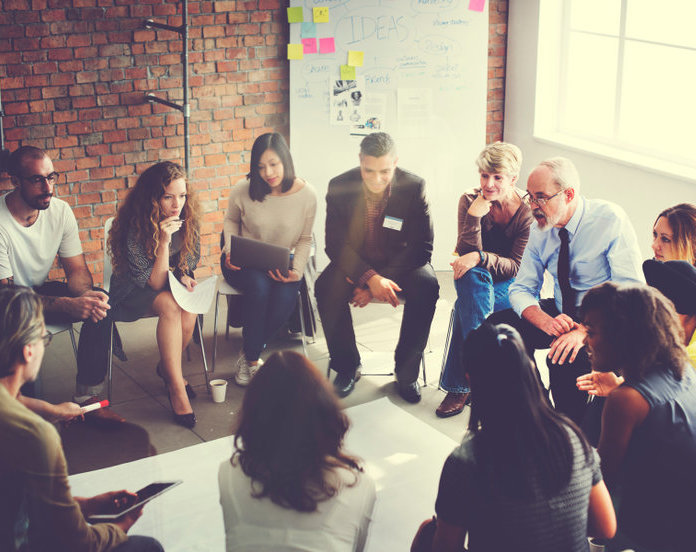 Reimagine your intranet and connect faculty and staff with critical information and sharing platforms that facilitate high performance team building and collaboration. Enhance employee experiences by streamlining operations and services while facilitating communication across the organization.
Now You Can Power-Up Your
Education Cloud Experience with Salesforce
Data Cloud for Tableau
Data Cloud for Tableau makes trusted, up-to-the-moment information available by providing visual, searchable, and relevant analytics and insights across your organization. With Data Cloud for Tableau, you will natively connect integrated, unified data from any source—including your Salesforce instance— making it easy
for everyone in your organization to visualize, automate, explore, collaborate, and act on valuable data-driven insights. Tableau functions as your data visualization and business intelligence layer on top of Data Cloud—allowing you to see, understand, and proactively interact with all constituents with immediacy.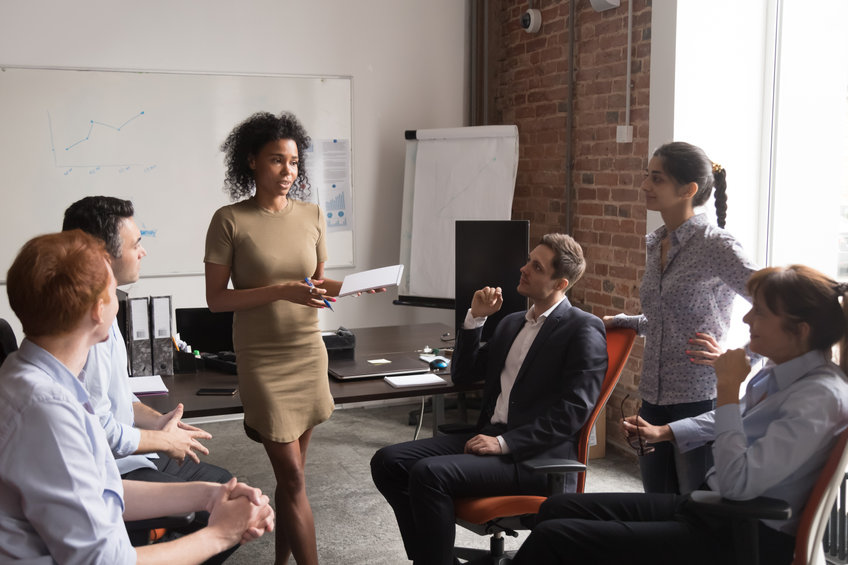 "Servio is flexible, accommodating, thorough, honest, organized, and quite frankly very fun. We really enjoyed, and looked forward to our weekly engagement with the Servio Team. It is also important to us that this is a business owned and operated by women!"
Capitalize on a Relationship Building Continuum developed just for you.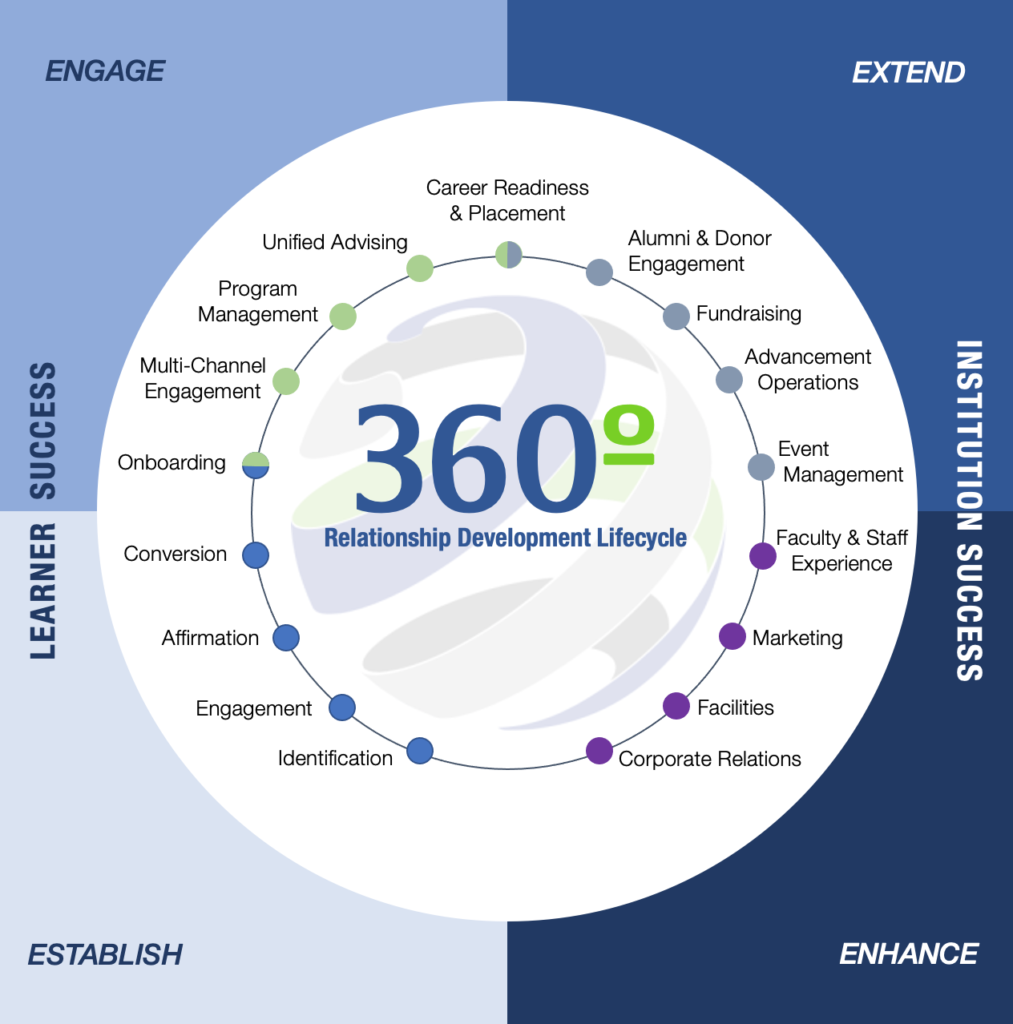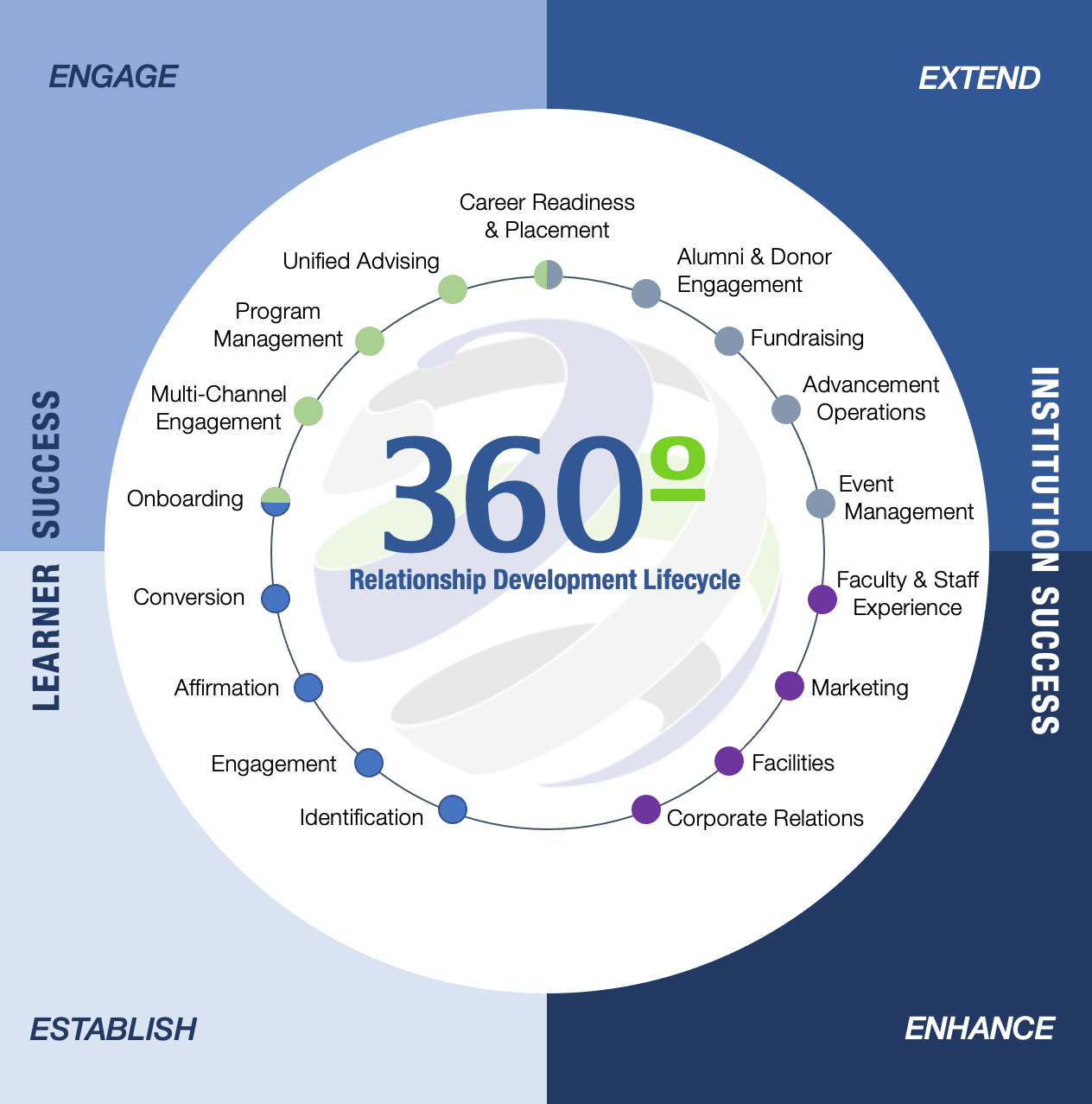 Developed in collaboration with educators and built upon the Salesforce.org platform, Servio Consulting solutions equip you for building fruitful and sustainable relationships throughout the entire education lifecycle.
The Servio consulting team are experts in integrating and implementing Education Cloud and other innovative Salesforce.org cloud modules while optimizing the value of its Education Data Architecture (EDA). So now you truly have a complete 360º view of prospects, learners, alumni, faculty and staff members, and foundation affiliates.
Of course, the deep experience Servio Consulting provides translates into the nonprofit sector with equal efficacy.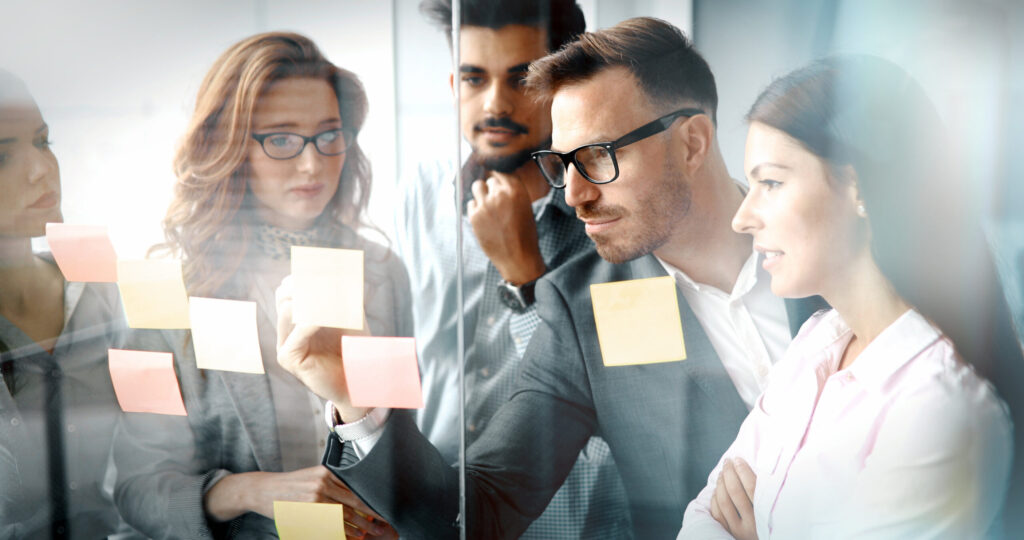 "We moved from another CRM platform to Salesforce with the goal of building automation and efficiencies as well as improving our engagement rates. The Servio team provided us with advice along the way to help ensure we were building a system that would work for us now and meet our needs for future implementation phases. They were very accommodating as circumstances changed and remained flexible as we navigated the implementation process while also keeping our project moving forward."
Congratulations on choosing the world's leading CRM platform.
Now let Servio Consulting help you maximize its value.
"Servio was wonderful to work with. Their staff were very knowledgeable, understood the complexities of our requirements, implemented a sound solution and were very patient in dealing with stakeholder comments and issues. The level of competence exhibited will ensure our return to Servio for the next project."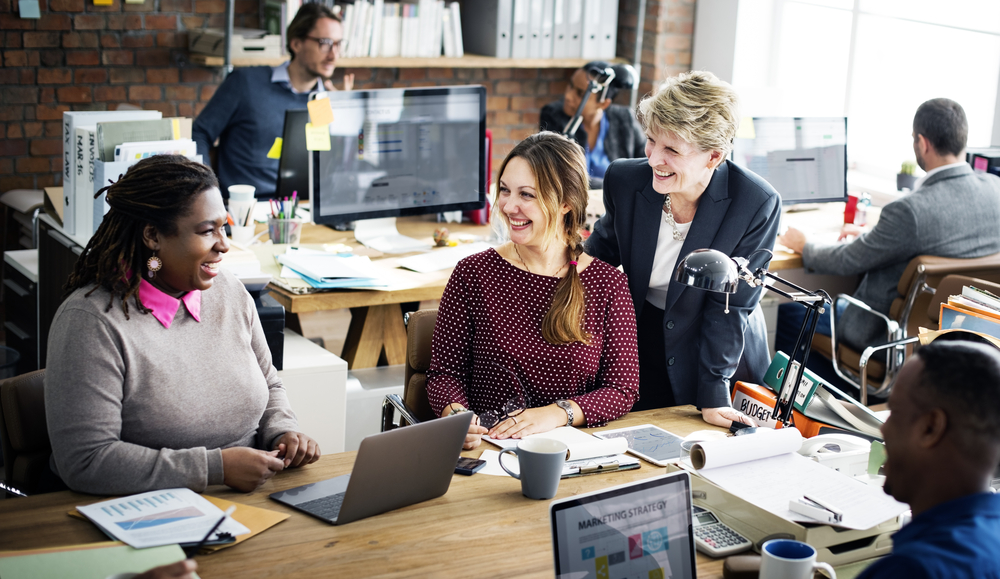 Committed to serving lifelong learners
and the people who make it possible
Education is a lifelong journey. The relationships that fuel educational excellence should be just as enduring.
Servio 360º enables educational institutions to build strong, relevant, inspiring, and sustainable relationships with prospects, students, alumni, faculty and staff, and community leaders at every stage of the education continuum.
The Servio Consulting team focuses on four key integrated phases in doing so:
Establishing relationships

Engaging learners

Extending the experience

Enhancing collaboration