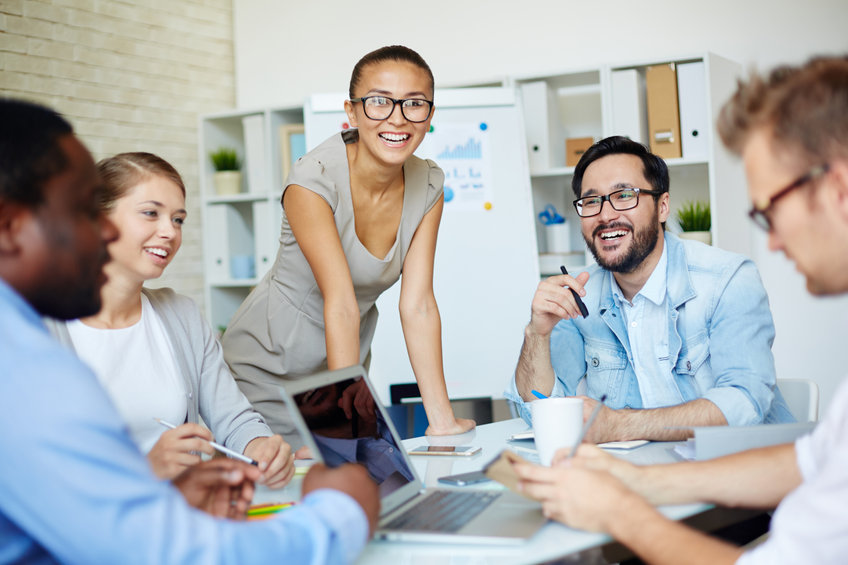 — and how the Servio 360º framework makes it possible —
Salesforce is incredible, and it's allowed us to become more future-proof. What I really like about Salesforce is [that] you can do anything once you get the data structure and architecture right. [Salesforce] can evolve to meet any challenge very quickly."

‑ Associate vice president of enterprise systems, private university
Success in the today's technology-driven world hinges on your capacity for change. Which is the primary reason organizations around the globe are adopting Customer Relationship Management (CRM) technology as a means of optimizing the lifetime value of every potential and existing relationship. And the increase in CRM usage is no minor shift. As recent as 2018 overall CRM usage was 56%. One year later, in 2019, that figure soared to 74%.1
The rampant increase in CRM usage is not without good reason. According to Finances Online CRM platforms can boost sales by as much as 29%, improve productivity by 34%, increase customer satisfaction by 74%, and improve business efficiency 73%.1
Servio Consulting helps you capitalize on the tremendous value of CRM by designing, architecting, integrating, and implementing the Salesforce Education Cloud built upon the world's leading CRM platform. Boasting an unrivaled 19.5% market share, Salesforce is the CRM of choice for 83% of the Fortune 500.2 And recent studies conducted by Forrester® Consulting showed the Salesforce Education Cloud is delivering impressive results relative to learner acquisition, retention, and advancement while increasing productivity and escalating alumni engagement.3
1 — Getting Things Right from the Start
Survey results published by Gartner found 68% of educational institution leaders questioned cited "improving the customer experience" [student, faculty, staff, alumni, donors, trustees] as the primary objective of their organization's digital technology investments. The responders noted that "data is available, but it is not used effectively."4
Survey respondents added that the three most urgent challenges in achieving their digital transformation goals are:
Agreeing on a shared vision across different parts of the enterprise;
Competing expectations from different stakeholders;
Integrating the digital vision with existing enterprise-level strategies.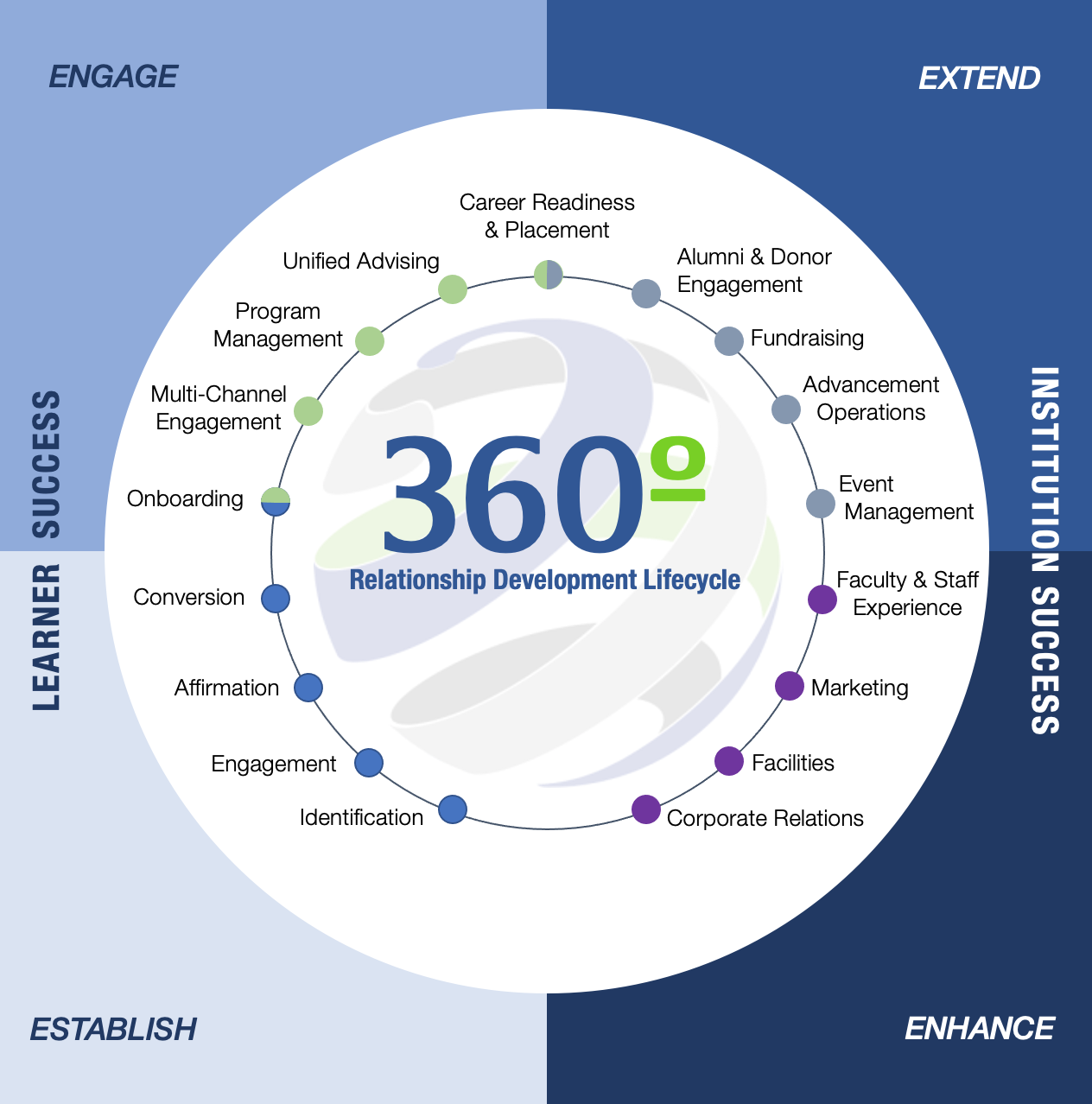 Accomplishing those outcomes means you must align your platform architecture and data structure with existing operating principles from the outset. Which is why it is essential you work with an integration partner with deep experience in the Salesforce CRM ecosystem. And better yet, a partner steeped in the distinct market dynamics and requirements of the education sector.
Developed in collaboration with educators and built upon the Salesforce Education Cloud platform, Servio Consulting 360º system architectures equip your organization with visibility into the entire relationship development continuum — from recruitment of potential students through smooth learner onboarding and advancement through eventual graduation through ongoing alumni relations. All while establishing a single source of truth that unifies faculty and staff in achieving crucial goals and objectives.
2 — Elevating Engagement
Education Cloud is designed with the flexibility and speed demanded in keeping step with the unbridled change confronting your organization. Especially when it comes to user expectations. If your systems don't operate as smoothly and intuitively as their favorite online retailer, social network, or website you run the risk of losing interest or being ignored altogether.
Antiquated legacy systems dependent on point solutions or single-purpose managed package applications lack the composability, extensibility and responsiveness modern users require. As a result, the more traffic and data-intensive your system becomes, the harder it is to manage and the less value it affords. In some cases those systems actually lose value over time.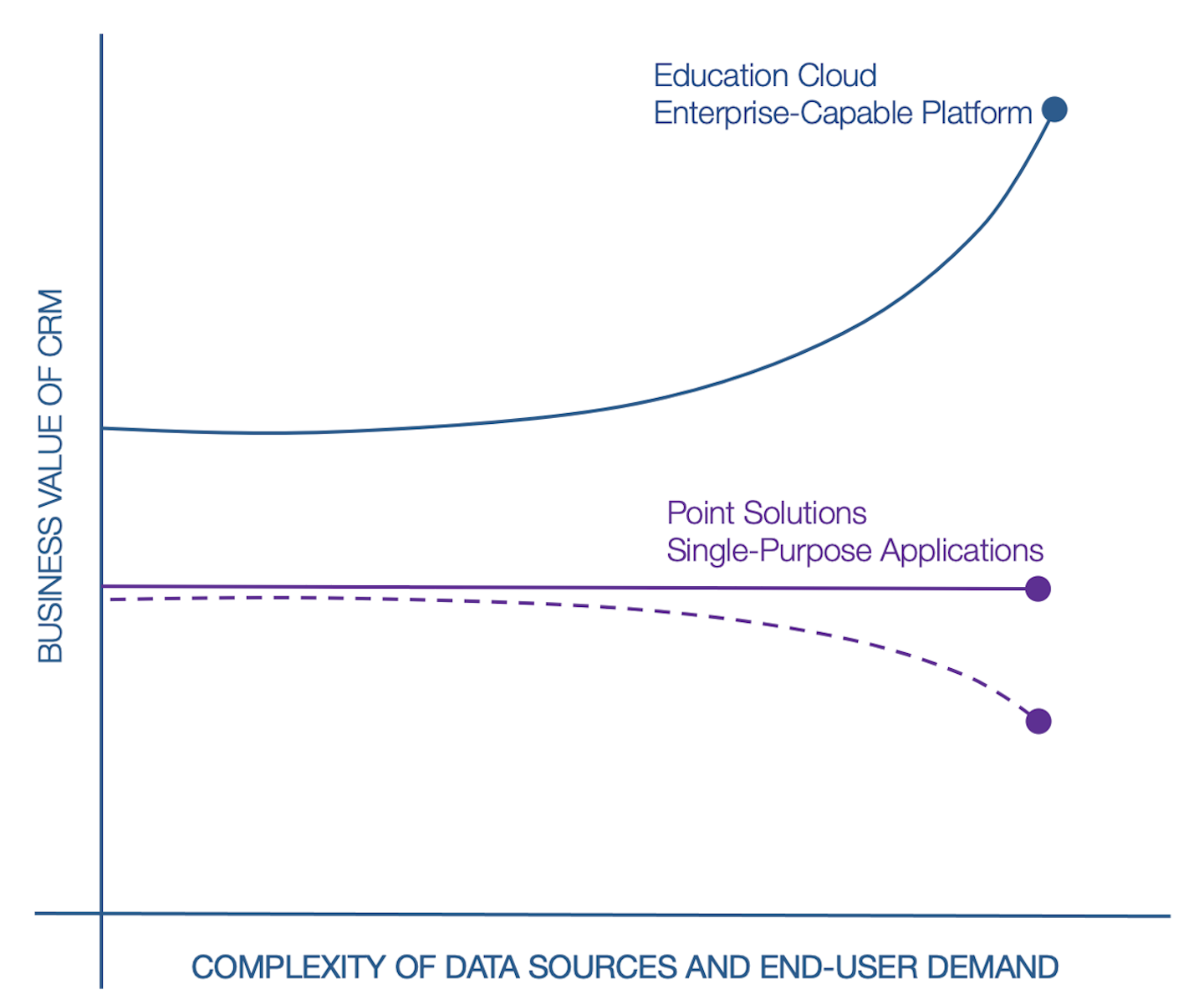 Which is why Servio Consulting created the 360º Education Relationship Development Lifecycle framework. Because understanding the business side of technology is just as important as understanding how to design and implement sophisticated CRM platforms — like the Salesforce Education Cloud. Now you can truly have a complete 360º view of every aspect of the relationship lifecycle and how your organization can make the most of the unique opportunities inherent in each phase.
As one private university president and CEO put it: "Do your homework. Make sure that you have a champion with authority and experience in understanding both the technology side and the business side…you can't take a process that works and transform it for a multifaceted institution without having somebody in charge who understands both the technology and the business processes."3
3 — Accelerating Time-to-Value
For all the dollars invested in innovative technologies, there still remains a chronic problem of realizing the full benefit of the technology before it risks obsolescence. The issue is compounded by the widening gap between the inherent value technology provides and your organization's ability to maximize that value.
At a time of intensifying competition for learners, faculty, and staff and keeping pace with radically shifting user behaviors, eliminating the chasm between technical potential and the capability of accomplishing vital business outcomes is urgent. No wonder 76% of higher education leaders interviewed by University Business indicated some level of urgency when asked if modernizing systems and/or digital transformation was a top priority for their institution.5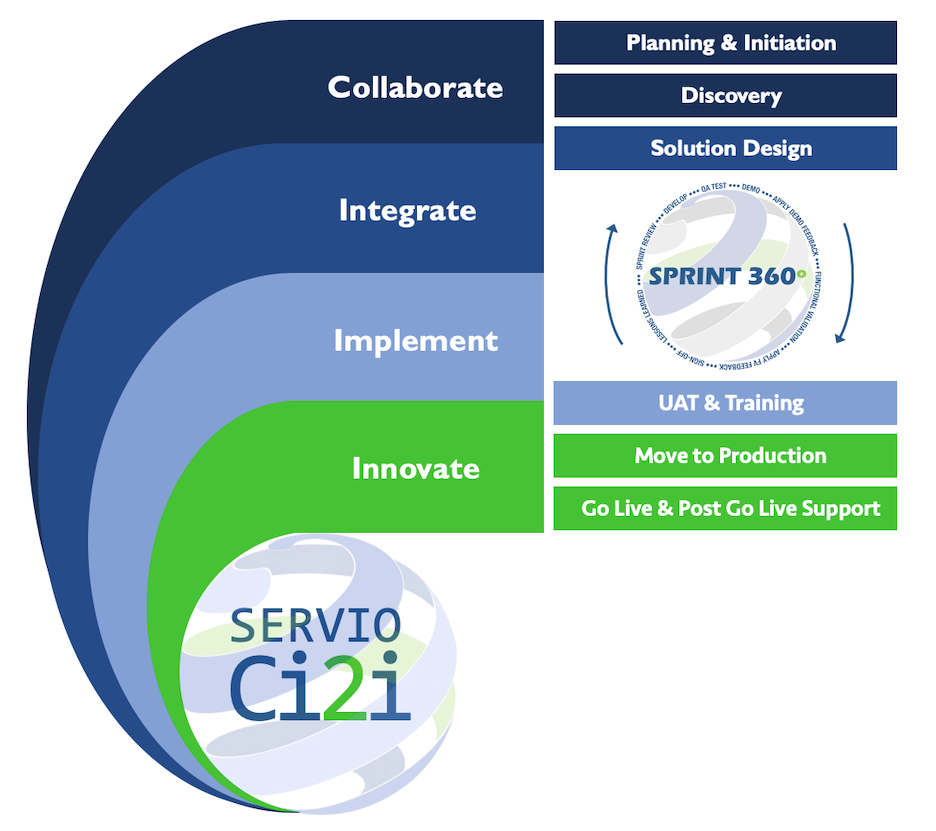 That means the faster your fully orchestrated CRM platform is operational the faster your team will develop highly effective capabilities and streamline efficiencies. The Servio 360º approach enables fast and efficient integration and implementation of the Salesforce Education Cloud — accelerating time to value for schools K-12, colleges and universities, community colleges, and technical and career training schools and equal impact. No matter the size or complexity of your organization.
As a result, you realize the value from the time the collaborative process begins — from establishing an overall strategy and roadmap that precisely defines desired outcomes to designing and implementing the platform through putting managed services in place that ensure continuous improvement and optimum performance.
By connecting internal and external data into a single source of truth, Education Cloud lets you deliver better customer experiences, improve operational efficiencies, and achieve the best outcomes. Plus, you get the added advantage of having an experienced team of professionals guide you through the process, providing you with:
In-depth, hands-on training for your employees
Customization aligned with existing processes and procedures
Automated workflows
Data migration
Adherence to project timelines and budgetary requirements
A successful platform delivery record within the Salesforce Education Cloud ecosystem
Experience and existing partnerships with diverse educational institutions
Ongoing IT support through comprehensive managed services program
4 — Future Proof Your Organization
Relationship management is a game changer for optimizing the education experience — from recruiting and admissions, through learner success, career preparation and placement, alumni engagement, institution advancement, and faculty and staff interactions and operations. By implementing the Salesforce Education Cloud you will have the capability to:
Initiate and scale learner-centric education experiences
Deliver the right information and services from anywhere
Automate your organization's processes while improving efficiencies
Lower operational costs and increase productivity
The inherent advantages of Customer Relationship Management are a boon for your organization at a time where opportunities for technology to shape the future of higher education are immense. Servio Consulting provides relationship management expertise that elevates organization performance at every step of the education lifecycle with unsurpassed agility, scalability, and performance excellence.
#          #          #
1 Source: Stellaxius (https://tech.co/crm-software/crm-statistics)
2 Source: Gartner (https://tech.co/crm-software/crm-statistics)
3 Source: Forrester® Consulting: The Total Economic Impact™ of Salesforce for Education
4 Source: 2023 Gartner CIO and Technology Executive Survey
5 Source: Study of 200 Higher Education Leaders conducted by University Business