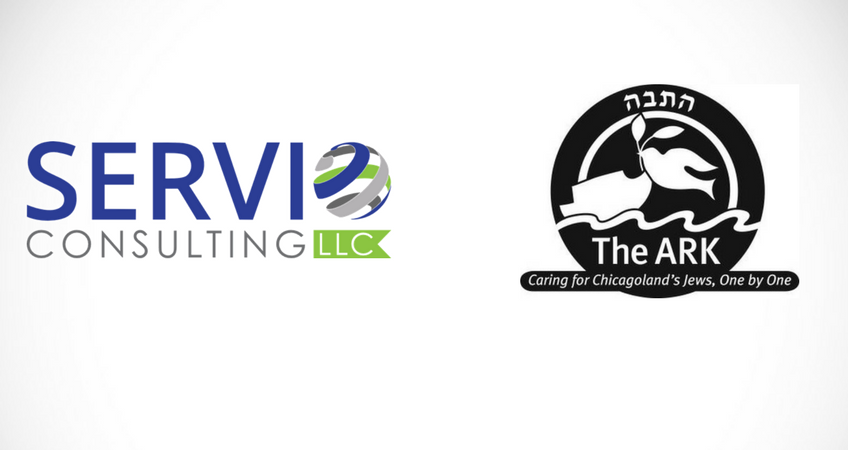 Servio Consulting to utilize Salesforce platform to make The ARK a Connected Nonprofit
Frankfort, IL – Servio Consulting, LLC has once again been selected by one of Chicago's most respected nonprofit health and human services agencies. Working with Salesforce.org, The ARK and Servio will be implementing the world's leading cloud platform to serve citizens on Chicago's North Side and Northbrook.  Within a framework of Jewish values, The ARK provides free, wrap around services to disadvantaged or vulnerable households to support them in meeting their medical, social and financial needs, and attaining their optimal level of self-reliance.  Servio will be delivering project management, business process re-engineering, organizational change management, requirements definition, Salesforce development, data integration, testing, training, and documentation.  Servio will leverage the Salesforce Sales Cloud, Community Cloud, Nonprofit Success Pack (NPSP), and Wave Analytics Cloud to achieve The ARK's goals. "We're thrilled to partner with The ARK on this critical initiative that impacts so many in the community," said Servio Managing Partner and CEO Nancy Cooper.
About The ARK 
The ARK is a not-for-profit, community-funded health and human services agency with facilities on Chicago's North Side and in Northbrook. We recognize that many members of our Chicagoland Jewish family—Jews from all walks of life, from all parts of Chicagoland—are deeply in need of help and kindness. Hard times happen, life happens, and sometimes it feels as if there isn't a safety net.
We work with each person or family in distress to create a personalized and comprehensive care plan that draws upon The ARK's wide array of free social and medical services under one roof. Our primary goals are to stabilize our clients' situations and assist them in achieving the highest degree of self-reliance possible.
While each year The ARK cares for approximately 4,000 people from throughout the Chicago metropolitan area, we acknowledge each member of our community as an important, unique individual. The ARK's vital, tangible human services honor that individuality, and are delivered with the care, respect, empathy and loving kindness celebrated by our shared Jewish tradition.
The ARK—Caring for Chicagoland's Jews, One by One.
About Servio
Servio has earned a stellar reputation as a consulting firm that leverages expertise in both information technology and business strategy to develop comprehensive technology-based solutions that deliver measurable results. Our solutions are designed to drive clients forward by transforming processes, increasing operating efficiencies, and maximizing your return on investment. As a Salesforce consulting partner, we believe in execution and accountability.
We help commercial, public sector and non-profit organizations use our systems to reduce their administrative costs by 50% and increase effective service delivery by 40%. We have a proprietary approach and software that automates service functions.
Servio's Human Services platform is native to Force.com and leverages Salesforce's cloud based architecture. The CMS application provides users 24/7 access to their information from anywhere they have an internet connection. The application supports the case management process from outreach and intake through the reporting of services.
Servio is headquartered in Frankfort, Illinois. For more information please visit our Web site at: www.servioconsulting.com.